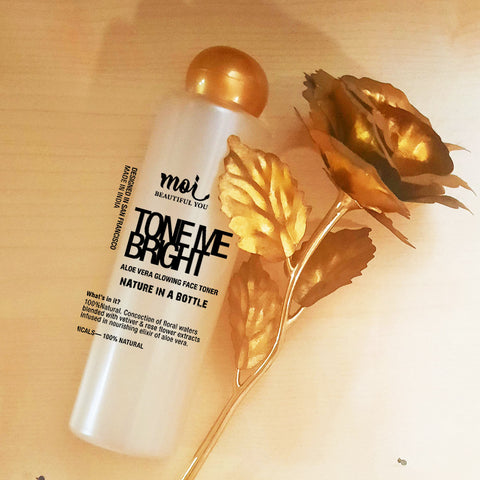 Tone Me Bright Face Toner
₹ 1,35000

₹ 1,350.00

Save -25%
---
---
TONE ME BRIGHT TONER STORY
TIGHTEN SKIN
PURIFIED CLEAN SKIN
DEEP PORE CLEANSE
FIRM & TONED SKIN
UNCLOG PORES
TREAT PIMPLES
BRINGS A GLOW
NOURISH YOUR SKIN WITH NATURE
YOUTH ELIXIR
FLORAL HAVEN
100% NATURAL

Tone Me Bright tightens and firms the skin. The skin gets toned. It deep cleanses the pores and purifies skin. Reaches the inner pores. It tightens, cleanses, clears tan, fades marks & discoloration. Makes the skin flawless. Wipe your pretty face with it morning & night to experience the full potential of this amazing all natural toner.
What's in it?
Handcrafted with love and concocted with extracts of flower and fruits blended with elixir of vetiver immersed in lavender and roses blended in nourishing aloevera and stored in an exquisite bottle to nurture the freshness of our precious exotic
natural ingredients. A totally delicious experience of nature in a bottle.
Some more cool stuff about Tone Me Bright Toner
100% natural.
Made only with purest ingredients of plant extracts..
No preservatives added.
No chemicals added. 
Vegan product.
No animal ingredient.
No animal testing.
Directions
Pour enough on a cotton-ball and wipe your pretty face, eye area & neck. Tone Me Bright tones, cleanses, purifies, & softens the skin. Freshen up with a heavenly feel. For a perfect flawless skin follow with night facial oil Glow. Use our face wash prior to the toner for a washed clean feel.

Skin
Suitable for all skin type.

Size
100ml
200ml
Storage
Please store away from sunlight. Keep bottle tightly shut.  
---
We Also Recommend
---